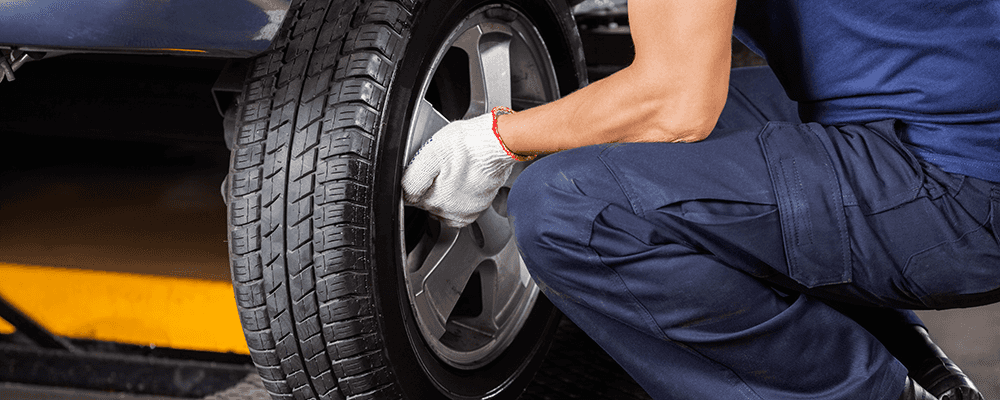 Are your treads wearing thin? Is it time for your next tire rotation? Have you just run a flat on the roads near Rumson? Here at Jaguar Monmouth Authorized Service, we think that every driver can benefit by learning how to change a car tire at home or on the road.
How to Change a Car Tire: Step-by-Step
It doesn't matter what kind of vehicle you drive. The answer to the question, "How do you change a car tire?" won't change! As long as you have a jack and a lug wrench on hand, you'll be able to get the job done quickly:
Make sure you're in a safe place. If you got a flat tire while you were driving, pull over to the side of the road and give yourself plenty of room to move around. Call Jaguar Roadside Assistance, or another trusted provider, if you feel unsafe.
Park on level ground, apply your parking brake, and insert wheel wedges beneath the tires that you aren't changing.
Remove the hubcap or wheel cover from your tire, and then loosen the lug nuts with your lug wrench. Don't remove the bolts just yet.
Locate the jack point underneath the vehicle, and place the jack carefully. Raise the vehicle into the air until the tire is lifted off the ground.
Go ahead and remove the bolts and take the old tire off your vehicle. Mount the new tire, and start to screw the lug nuts by hand.
Lower your vehicle back to the ground, and tighten the lug nuts with your wrench. Work in a star pattern to ensure even tightening, which is necessary to prevent warped rotors.
If you're rotating your tires, it helps to have a set of jack stands on hand. This way, you can get all four wheels up in the air. If changing all your tires at home seems like too big of a task, don't worry! We've made it easy to schedule service.
How Often Should You Change Car Tires?
Car tires generally last between six and ten years, but how often should you change car tires, really? It all depends on how often you rotate your tires and how well you keep them inflated as you drive around Red Bank and Point Pleasant.
The best way to tell if you need to change a car tire is to check the tread depth using a ruler, a tread gauge, or a penny. New tires will have a depth of roughly ⅓ of an inch, and you should replace them when they reach 2/32 of an inch or less.
How Many Miles Can You Go on a Spare Tire?
Spare tires are not manufactured according to the same standards which distinguish the tires you normally use on your vehicle. Most will only last for around 50 miles, and going faster than 50 mph is not recommended when you're running on a spare. Head straight to your local tire store, and pick up a new one as soon as you can.
Your spare may have its own unique limitations, so be sure to check the tire wall when you're getting ready to put it on.
We're Ready to Help with All of Your Tire Care Needs
Now that you've seen how to change a tire, you might be eager to learn more about DIY car care! Find out how to jump-start a car the easy way today. The Jaguar Monmouth Authorized Service service team is happy to pass along what we know!
If you need a new set of Jaguar tires or want to save on your next tire rotation, make sure to check out our parts coupons and service specials!
Learn More with Jaguar Monmouth Authorized Service
Knowing how often to replace a car battery can save you quite a few headaches in the long run. Although batteries last four to five years, we can show you how to test a car battery at home! If you're following the recommendations in your owner's manual and supplementing with these simple at-home inspections, you…

Contact Us Curious about Jaguar Special Vehicle Operations? Unsure which models are part of this unit? Learn all about Jaguar Special Vehicle Operations with Jaguar Monmouth Authorized Service, then take a closer look at who owns Jaguar and where models are manufactured. What Is Jaguar SVO? Jaguar SVO includes halo models, limited run collectors' editions, and high-specification vehicles….

What does the Jaguar warranty cover? If you've recently purchased a brand-new Jaguar model near Rumson and want to ensure that it stays in tip-top shape for years to come, it's important to know what the Jaguar warranty involves. Find out with Jaguar Monmouth Authorized Service why the Jaguar warranty beats out many other competitors like Tesla and…