2020 Jaguar F-PACE Dimensions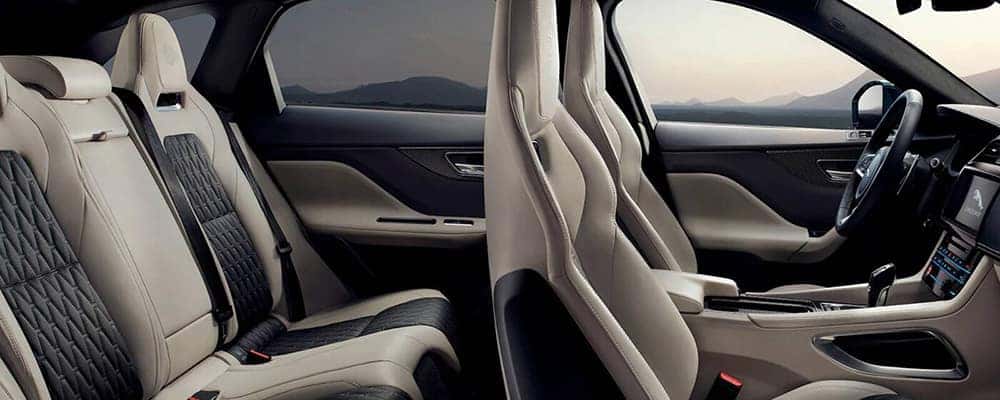 The size of the Jaguar F-PACE positions it squarely within the luxury compact class, but the 2020 Jaguar F-PACE dimensions distinguish it as one of the standout options in the segment! We've covered the most important dimensions of a Jaguar F-PACE below, so you can be absolutely certain that it's the right choice for you and your passengers.
Jaguar F-PACE Interior Dimensions
You'll love the time you spend inside of the Jaguar F-PACE interior. Although the wide range of F-PACE technology and comfort features deserve plenty of attention, discerning drivers will find that the F-PACE interior dimensions are compelling in their own right:
F-PACE Headroom: 37.8 inches (1st Row) / 37.5 inches (2nd Row)
F-PACE Shoulder Room: 57.7 inches (1st Row) / 55.8 inches (2nd Row)
F-PACE Legroom: 40.3 inches (1st Row) / 37.2 inches (2nd Row)
Jaguar F-PACE Cargo Dimensions
Whether you're a daily driver who needs to transport cargo for a whole family or a weekend warrior who needs room for all their gear, the Jaguar F-PACE cargo dimensions leave little to be desired:
Cargo Volume Behind 1st Row: 55.8 cubic feet
Cargo Volume Behind 2nd Row: 33.5 cubic feet
While volume measurements will be sufficient for most drivers, a closer look at the Jaguar F-PACE boot space dimensions will be helpful for those with unique or particular needs:
Load Space Height: 30.6 inches
Load Space Width: 42.5 inches
Maximum Trunk Width: 49.3 inches
Trunk Width (Between Wheel Wells): 41.3 inches
Jaguar F-PACE Exterior Dimensions
See below for a comprehensive overview of the exterior Jaguar F-PACE dimensions, in inches:
Length (Bumper-to-Bumper): 186.3 inches
Height (with Roof Open): 65.6 inches
Width (Mirrors Out/Mirrors In): 85.6 / 81.5 inches
Front Wheel Track Width: 64.6 inches
Rear Wheel Track Width: 65.1 inches
Wheelbase: 113.1 inches
Experience the F-PACE Firsthand at Jaguar Monmouth!
The Jaguar F-PACE dimensions paint a very compelling picture, but there's no substitute for the real deal. Now that you've seen the mathematical details, schedule your test drive in any new F-PACE on our lot, or find out how to shop and buy online.
More from Jaguar Monmouth
You love the look of the new Jaguar E-PACE, but is it big enough for your planned adventures near and far from Red Bank? One look at the 2022 Jaguar E-PACE dimensions should eliminate any reservations you may have; this compact SUV is spacious, capable, and ready for just about anything. View InventoryShop & Buy Online…

New Jaguar XF design features have made this year's model the most exciting XF yet. The 2021 Jaguar XF interior has benefitted from a comprehensive redesign, and drivers near Rumson and Colts Neck can't wait to see what it's offering. We've laid out everything you need to know about the interior updates, the new feature suite,…

Knowing how often to replace a car battery can save you quite a few headaches in the long run. Although batteries last four to five years, we can show you how to test a car battery at home! If you're following the recommendations in your owner's manual and supplementing with these simple at-home inspections, you…